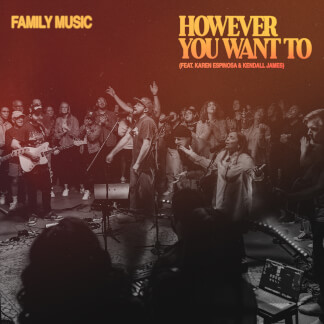 Family Music is a worship collective founded in Orlando, FL. Family Music released a song titled "However You Want To" featuring Karen Espinosa & Kendall James.
However You Want To was written by Steve Davis, Damian Espinosa, Kendall James Wingert, Matthew DelVescovo & Thomas Paden.
It is the first single lifted from their upcoming album "Undignified," releasing March 2023.
Watch Video, Stream and Download Mp3:
Stream and Download Mp3:
Lyrics
[Verse 1]
Feels so good to be back
In Your Presence
This is the Place
Where I Belong
Try my best not to take it for Granted.
When I do I know
You Love me the same all along
[Pre – Chorus]
Your Spirit Calling me
To Higher Places
Where your Fire Falls
Like Rain reviving my Praises
[Chorus]
Come Like the Wind come
Like Thunder and Flame
Burst through the Door
Like Heaven Untamed
Spirit You just come
However You want to
Fill up this Room
With Your Power and Might
Like a Pillar of Fire
In the dead of the Night
Spirit You just come.
However, You want to
[Verse 2]
You're so much Better
Than I could Imagine
Why would I ever chase anything else?
You meet my Prodigal Heart
With Compassion
There's no way to stay the same.
Now that I know who You are.
[Pre – Chorus]
Your Spirit Calling me
To Higher Places
Where your Fire Falls
Like Rain reviving my Praises
Come Like the Wind come
Like Thunder and Flame
Burst through the Door
Like Heaven Untamed
Spirit You just come
However You want to
Fill up this Room
With Your Power and Might
Like a Pillar of Fire
In the dead of the Night
Spirit You just come.
However, You want to
[Bridge]
My Heart is Waiting
For You to Move
So, Open up Heaven.
I'm waiting for You.
To come and Consume
My Heart is Waiting
For You to Move
So, Open up Heaven.
I'm waiting for You.
To come and Consume
My Heart is Waiting
For You to Move
So, Open up Heaven.
I'm waiting for You.
To come and Consume
My Heart is Waiting
For You to Move
So, Open up Heaven.
I'm waiting for You.
To come and Consume
[Pre – Chorus]
Your Spirit Calling me
To Higher Places
Where your Fire Falls
Like Rain reviving my Praises
[Chorus]
Come Like the Wind come
Like Thunder and Flame
Burst through the Door
Like Heaven Untamed
Spirit You just come
However You want to
Fill up this Room
With Your Power and Might
Like a Pillar of Fire
In the dead of the Night
Spirit You just come.
However, You want to
Come Like the Wind come
Like Thunder and Flame
Burst through the Door
Like Heaven Untamed
Spirit You just come
However You want to
Fill up this Room
With Your Power and Might
Like a Pillar of Fire
In the dead of the Night
Spirit You just come.
However, You want to
[Post – Chorus]
Come Like a Whisper
Like Dew in the Night
Subtle and Quiet
Catch me by Surprise
Spirit You just come
However You want to