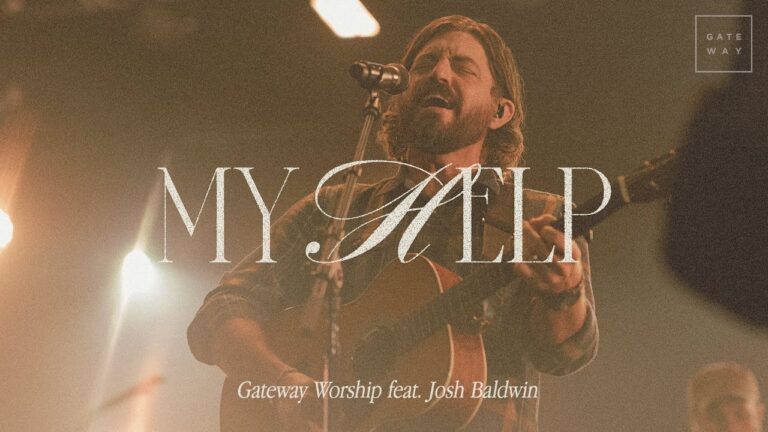 Gateway Worship, the renowned worship group from the Gateway Church in Texas,
has just released a new single "MY HELP" from their upcoming album "COMPLETELY ABANDONED," set to be released on March 3rd, 2023.
The song was written by Josh Baldwin, Christine D'Clario, Mark Harris, and Zac Rowe.
The single "MY HELP" is a powerful declaration of faith, reminding listeners that their help comes from the Lord."MY HELP" is a reminder to all of us that the Lord is always faithful and is the source of our help and confidence.
The song encourages listeners to keep their focus on Jesus and trust that He will make a way, no matter the circumstances.
Watch Video, Stream and Download Mp3:
Stream and Download Mp3:
Lyrics
[VERSE 1]
Oh my soul
Forget not all His benefits
How His light has shone
Through darker days than this
He has been faithful
He's always faithful
[VERSE 2]
Even as I'm walking
Through the wilderness
Standing in the valley
I'll remember this
He has been faithful
He's always faithful
[CHORUS]
I know where my help comes from
My help comes from the Lord
I know where my help comes from
My help comes from the Lord
My confidence remains
In the name above all names
I know where my help comes from
My help comes from the Lord
[VERSE 3]
I won't fear the fire
Or the wind and waves
For the name I call upon
Will be the same
'Cause Jesus is faithful!
He's always faithful
[CHORUS]
I know where my help comes from
My help comes from the Lord
I know where my help comes from
My help comes from the Lord
My confidence remains
In the name above all names
I know where my help comes from
My help comes from the Lord
[BRIDGE]
I Lift my countenance
Beyond the circumstance
My feet are planted
I won't be shaken
My God will always make a way
I Lift my countenance
Beyond the circumstance
My feet are planted
I won't be shaken
My God will always make a way
[CHORUS]
I know where my help comes from
My help comes from the Lord
I know where my help comes from
My help comes from the Lord
My confidence remains
In the name above all names
I know where my help comes from
My help comes from the Lord
I know where my help comes from
My help comes from the Lord
I know where my help comes from
My help comes from the Lord
My confidence remains
In the name above all names
I know where my help comes from
My help comes from the Lord
[BRIDGE]
I Lift my countenance
Beyond the circumstance
My feet are planted
I won't be shaken
My God will always make a way
My God will always
Make a way
My God will always make a way