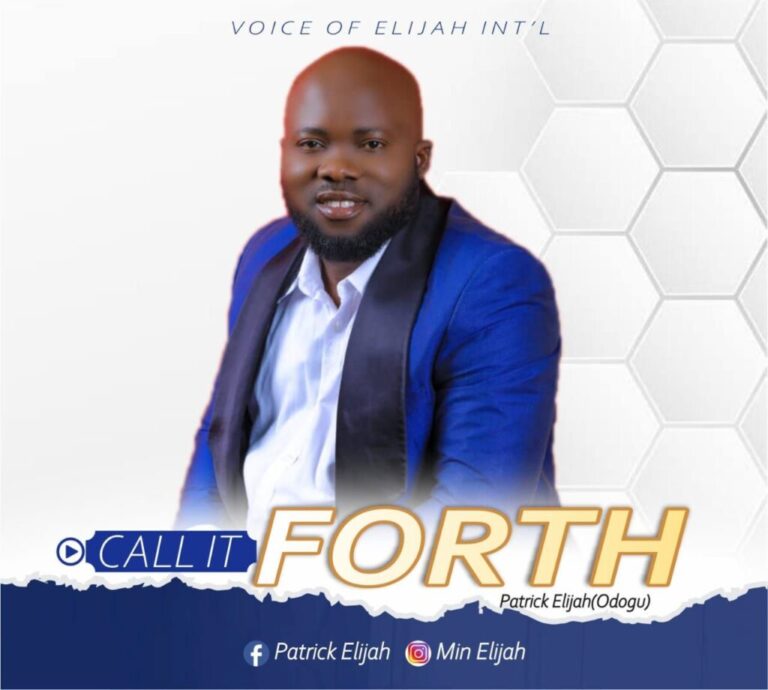 Call it Forth is a brand new single from Nigerian gospel artiste, praise and worship leader Min Patrick Elijah. Call it forth is a powerful tune, which proclaims the finished work of christ.
Minister Patrick Elijah hails from Imo state and Worships at Omega fire Ministries Abuja (City Of Power), and he is married to a gospel artist (Adahvicks).
Min Patrick Elijah is also a preacher and a revivalists who is likened to Elijah in the Bible. As a Gospel music minister Min Patrick Elijah has credited his ministry and inspiration to God and then to his father in the Lord Rev Dr kingsley Iyore Aigbe who anointed and stirred up the fire of prayer and revival through which his songs are borne.
Stream and Download Mp3:
LYRICS: Call It Forth By Patrick Elijah
(Tongues)
Lord we thank you
Calling those things
That be not
As though they are here with us
Call it call it call them Forth 3x
(Tongues)
Calling those things
That be not
As though they are here with us
Call it call it call them Forth
Haleluya Haleluya Haleluya
Haaaleluyaahhhhh
Call your healing Forth
Call it Forth
Call your breakthrough forth
Call it Forth
Call your Victory Forth
Call it Forth
Call it Forth
Call your fullness forth
Call it Forth
Call your success Forth
Call it Forth
Call your Miracle Forth
Call it Forth
Haleluya Haleluya Haleluya
Haaaleluyaahhhhh 2x
(Tongues)
Uhhhuhhu
Uhhhh uuuu
(Chanting)
They exist in the spirit
Call it Forth Real in the spirit
They are
Call it Forth
They are Moving in the spirit
Call it Forth
Call it Forth 2x
Haleluya Haleluya Haleluya
Haaaleluyaahhhhh 2x