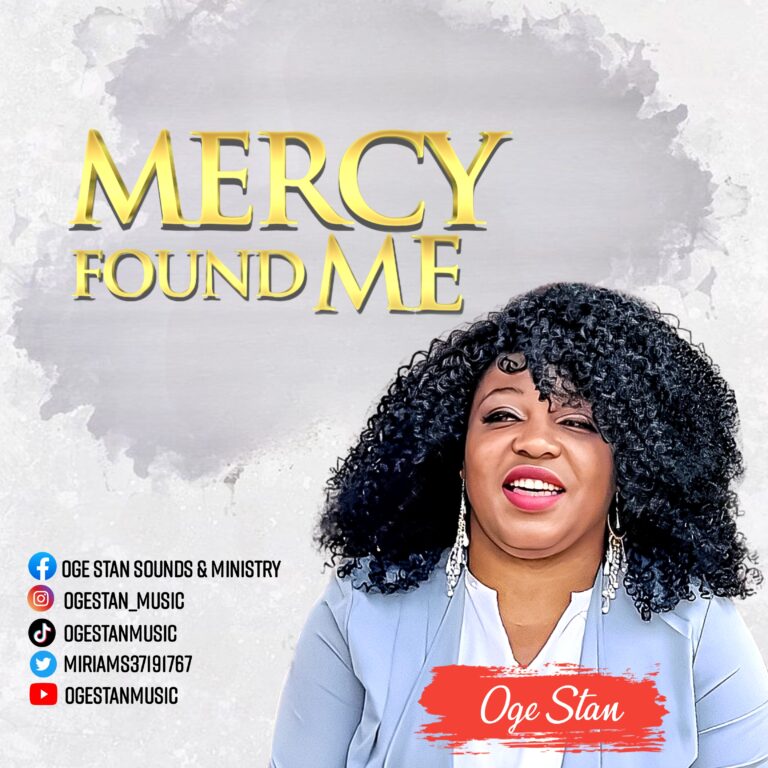 Gospel Sensation OGE STAN Unveils Her Soul-Stirring new Song and Shares a Divine Revelation of Redemption in Her New Single: "MERCY FOUND ME"
In a world often filled with chaos and uncertainty, where hope can sometimes seem like a distant dream, OGE STAN emerges as a beacon of inspiration, offering a message of Divine Love, Mercy, and Redemption in her Newest Gospel single, "MERCY FOUND ME."
With each note she sings and every lyric she pens, Canadian artist Oge Stan reinforces the message that no matter the trials we face, there is always a source of strength, a wellspring of love, and a fountain of mercy to be found in our faith. In her latest music, mercy isn't just a concept; it's a profound reality that we can all embrace.
Her captivating voice and heartfelt lyrics are nothing short of a spiritual experience, guiding listeners on a profound journey of faith and self-discovery. "MERCY FOUND ME" isn't just a song; it's a testament to the enduring power of God's mercy and the transformative grace that can touch and transform lives.
Watch Video, Stream and Download Mp3:
Stream and Download Mp3:
Lyrics
You're are my Potter
I am your Clay
God your Great Love
Is Steady and Strong
You've called me out of Darkness
Into your Amazing Light
Mercy Found me and paved the way.
In your warm embrace
I have found my rightful place
Jesus my redeemer
I worship you
In wonder of your Goodness
My voice would raise to sing
Mercy Found me and paved the way
Chorus:
Mery Found me 2X
Now I am free
I'm free indeed
In his boundless compassion my soul redeemed
Thank you Jesus
For your mercy on me.
Verse:
It's Been your Mercy
It's been your Mercy all along
It was your Mercy Yesterday
Today and Tomorrow
Your Mercy picked me from the Miry Clay
Set my Feet on a Rock to Stay
Mercy Found me and tamed my Storms
Your Grace
Pour on me like the Sweet drops of Rain
Jesus your love
I can't Comprehend
Love that never fades
Love that never change
Love so pure and true
Love that never fails
Chours:
Mercy Found me
Hey!
Now am free
I'm free indeed
In your Boundless Compassion
Lord you redeemed my soul
Thank you Jesus
For your mercy on me 2X
Outro:
Thank you Lord (2X)
Thank you my Redeemer
Thank you Jesus
For your Mercy on me
For your Grace
For your Faithfulness
For your Healing's
Thank you Lord
Thank you Jesus
For your Mercy on me