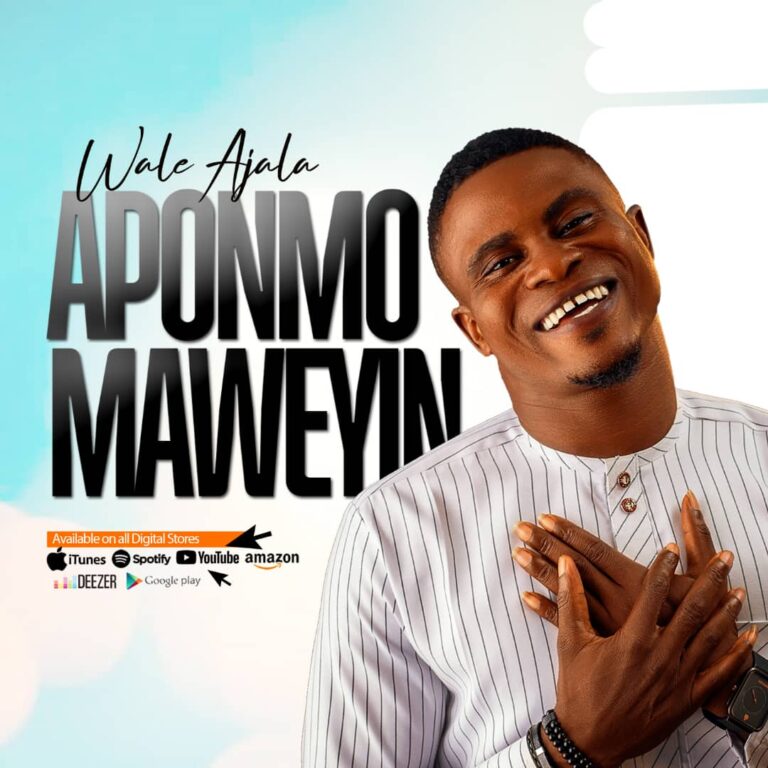 Anointed Nigerian gospel singer, recording artist, and songwriter  Wale Ajala, unveils his new titled "Aponmo Maweyin "
According to him; This song is like a musical embrace from a loving Father.APONMOMAWEYIN is filled with heartfelt lyrics and soul-stirring melodies that will leave you feeling inspired and grateful. Get ready to be moved to your core!
Stream and Download Mp3:
Aponmo Maweyin Lyrics:Aye o gbeyin somikale Iwo ni
Aye o gbeyin gberumi o Iwo ni
Oba ti ko gba fota ko jere Oro lara mi
Ose o aponmo….
Aponmomaweyin, Aponmolalailoja o, Aponmolalailo beliti ose o aponmo
Sebi Iwo laponmo maweyin,
olutoju mi nigbagbogbo
Aponmolalailo beliti ose o aponmo.
Oju ton somi somi ti mi oririi
Owo ton gba mi o ninu isoro (aye mi)
Eyin ton pon mi o tio jen jabo o
Ema se o aponmo
Alabo ton jagun ton segun aye mi
Olowo/gbogboro / 6x eleti gboun gbaroye ton gbo ebe mi ema de se o aponmo
Sebi Iwo laponmo maweyin Aponmolalailoja o, aponmolalaigba collateral, o ma de se o pllll)aponmo
Ilukowokowo tota n lu o je odun
Ilu sise sise tota n lu o je o odun
Ilu jabo jabo to tan lu o je odun
O ma de se o aponmo
Sebi ilu kotankotan totanlu o je odun
Ilu sise sise tota nlu o je odun
Aye o pe mi ni Ichabod, Ogo osi lo Lara mi
O ma de se o aponmo
Daddy mi ose
Ejen Jo ijo ope /2ce
Haa thank you father