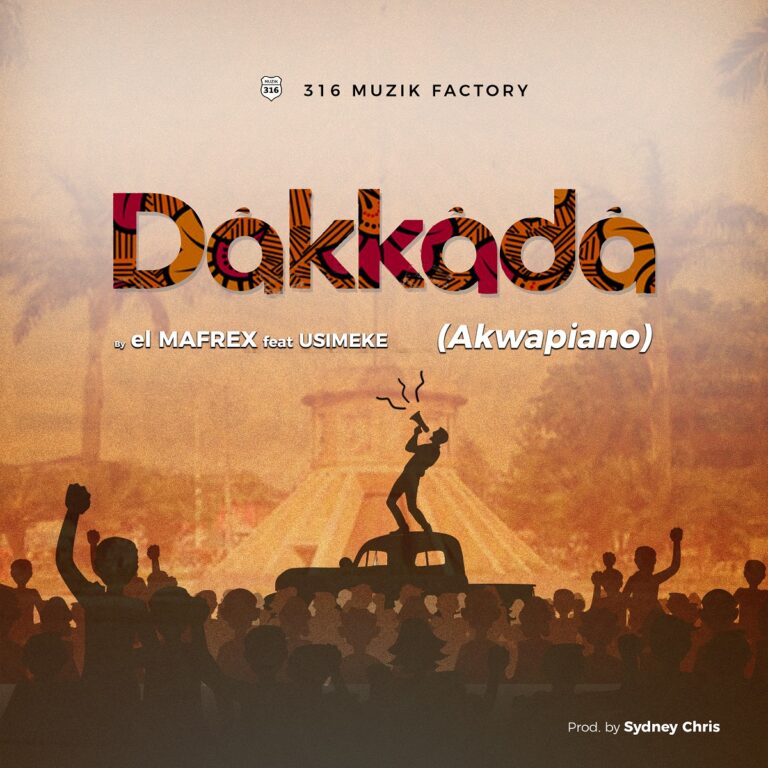 el Mafrex releases new uplifting song DAKKADA. He features Afro pop/gospel artiste Usimeke on this one.
DAKKADA, which translates to "Rise up" in the Ibibio language, is a call to rise and praise God in celebration of his faithfulness; it draws inspiration from Psalms 122:1 and Nehemiah 9:5 and adopts the styles of South African and Akwa Ibom cultural beats. With its Biblical lyrics and compelling melodies, "Dakkada" is a testament to the power of music to transcend boundaries and unite people in celebration of God.
Psalms 122:1 says, "I was glad when they said unto me, 'Let us go into the house of the LORD.'" This verse captures the essence of communal worship and the joy of coming together to praise God, a sentiment beautifully echoed in "Dakkada". Nehemiah 9:5 adds, "Stand up and praise the LORD your God, who is from everlasting to everlasting." This verse serves as the foundation of the song's message, inspiring us to rise and give thanks for God's eternal love and blessings.
"Dakkada" is more than just a song; it's a call to action, a celebration of faith, and a reminder of the unity that can be found in praising the Creator. The infectious rhythm and heartfelt lyrics are sure to uplift spirits and bring joy to audiences worldwide. In an era where music transcends borders and genres, el Mafrex and Usimeke have created a musical masterpiece that is innovative, honors their tradition, and stays true to their Christian beliefs.
Stream and Download Mp3:
LYRICS
Dakadda
INTRO –
Sike di sike di sike di
Ku tie tie ba x2
CHORUS –
Ufan Dakadda
Kwo ikwo
Nek Unek toro
Abasi
Dakadda
Kpeke k' isin
Sio mkpo
Toro Abasi
Ai eeeee – Toro Abasi
Chuuuuu – Toro Abasi
Ukang nyin Ekene ekwo
Kutieba kutieba
Dakka dada ku kod
Nek unek
Tuak isin nor Akwa Abasi Ibom oh
Anyi ikpong Adod itoro
I was glad when they said
When they said to me
Let us go to the house of the Lord
Ami nye kwo ntoro enye
Hallelujah – Dara, ToroAbasi , Dakkada, Nek Unek
CHORUS –
Ufan Dakadda
Kwo ikwo
Nek Unek toro
Abasi
Dakadda
Kpeke k' isin
Sio mkpo
Toro Abasi
Mma da da se se
Se Abasi anamde annor mi
Odo dot se mi nor nor ye
Afid itoro afe fid ekom
Ku tie tie ba
Uma kop nagha ikwo ami abide
Dakada Dakadda Nek unek
Sio mkpo
Nek Unek
Nam Idara kwo ikwo
Se Obong anamde onor mi
Ami nye kwo, ami nye dara
Ndito Abasi (enek unek, ekwo ikwo, kpeke k'isin, enam idara)