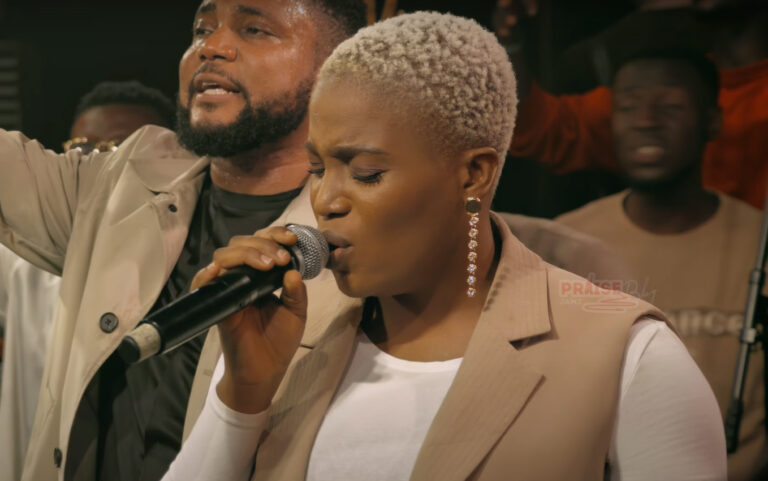 Nigerian Gospel artist Tim Godfrey has teamed up with Fearless Community, Anderson & Ohgey
to release a powerful new Christian gospel song titled "BE LIFTED HIGH."
BE LIFTED HIGH" is a song that expresses praise and adoration to God.
The lyrics are a reminder of God's greatness and majesty, urging the listener to lift Him high and give Him the glory He deserves. The song highlights the fact that God is worthy of all our praise and that His love and faithfulness are unending.
Watch video, Stream and Download Mp3:
Stream and Download Mp3:
Lyrics
Be Lifted High
Oh Jesus, Be Lifted High
Be Lifted High
Oh Jesus, Be Lifted High
Every other God
They are the Works of Men
Jesus, You are the only God
You are the only God
Every Knee must Bow
And every Tongue will Confess
Jesus, You are the only God
You are the only God
Be Lifted High
Oh Jesus, Be Lifted High
Be Lifted High
Oh Jesus, Be Lifted High
Be Lifted High
Oh Jesus, Be Lifted High
Be Lifted High
Oh Jesus, Be Lifted High
Be Lifted High
Oh Jesus, Be Lifted High
Be Lifted High
Oh Jesus, Be Lifted High
Every other God
They are the Works of Men
Jesus, You are the only God
You are the only God
Every Knee must Bow
And every Tongue will Confess
Jesus, You are the only God
You are the only God
Every other God
They are the Works of Men
Jesus, You are the only God
You are the only God
Every Knee must Bow
And every Tongue will Confess
Jesus, You are the only God
You are the only God
Every other God
They are the Works of Men
Jesus, You are the only God
You are the only God
Every Knee must Bow
And every Tongue will Confess
Jesus, You are the only God
You are the only God
Heaven and Earth Adore You
Angels Bow before You
We Lay our Crowns
And Worship You
Heaven and Earth Adore You
Angels Bow before You
We Lay our Crowns
And Worship You
Heaven and Earth Adore You
Angels Bow before You
We Lay our Crowns
And Worship You
Heaven and Earth Adore You
Angels Bow before You
We Lay our Crowns
And Worship You
Heaven and Earth Adore You
Angels Bow before You
We Lay our Crowns
And Worship You
Heaven and Earth Adore You
Angels Bow before You
We Lay our Crowns
And Worship You
Heaven and Earth Adore You
Angels Bow before You
We Lay our Crowns
And Worship You
Heaven and Earth Adore You
Angels Bow before You
We Lay our Crowns
And Worship You
Heaven and Earth Adore You
Angels Bow before You
We Lay our Crowns
And Worship You
Heaven and Earth Adore You
Angels Bow before You
We Lay our Crowns
And Worship You
Be Lifted High
Oh Jesus, Be Lifted High
Be Lifted High
Oh Jesus, Be Lifted High
Every other God
They are the Works of Men
Jesus, You are the only God
You are the only God
Every Knee must Bow
And every Tongue will Confess
Jesus, You are the only God
You are the only God
Every other God
They are the Works of Men
Jesus, You are the only God
You are the only God
Every Knee must Bow
And every Tongue will Confess
Jesus, You are the only God
You are the only God