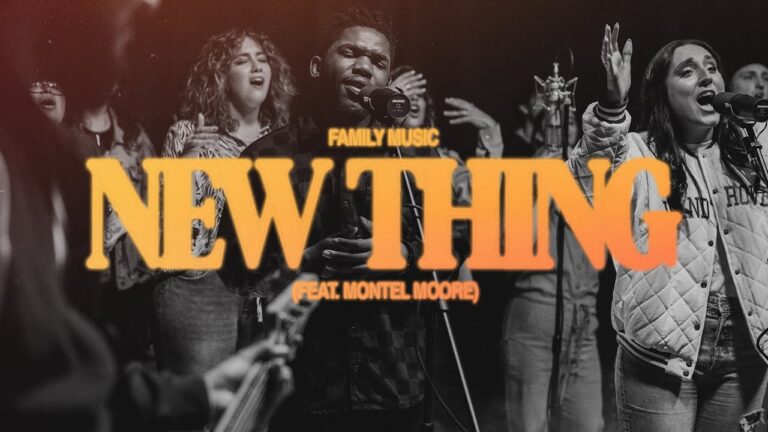 Family Music is back with their new gospel single, "New Thing",
releasing on March 3rd as part of their upcoming album "Undignified".
Written by Montel Moore, Hiyab Gabriel, Thomas Paden & Damian Espinosa,
this song is a powerful testimony of God's goodness and mercy,
and how He is working in our lives.
The lyrics of "New Thing" are a reminder of the peace and joy that comes
from surrendering our lives to God. Through every valley and difficult situation,God's goodness and mercy follow us and He is doing a new thing in us.This song is a celebration of the transformation that occurs when we surrender our lives to God and trust in His plans for us.The chorus of the song speaks of finding peace in what we cannot control and having joy in our souls.
Watch Video, Stream and Download Mp3:
Stream and Download Mp3:
Lyrics
Your goodness and mercy
Will follow me through
every deep valley
You're doing a new thing in me
You found me down this old road
All my days to You I owe
Surrendered
You're doing a new thing in me
Your goodness and mercy
Will follow me through
every deep valley
You're doing a new thing in me
You found me down this old road
All my days to You I owe
Surrendered
You're doing a new thing in me
[Chorus]
I Found a Peace
For what I can't control
I got a Joy down in my soul
I got a Praise
That I cannot hold
Oh Hallelujah oh Hallelujah"
[Bridge]
It's a new new thing
That You do in me
It is by Your blood
That I've been set free
That You do in me
It is by Your blood
That I've been set free
It's a new new thing
That You do in me
It is by Your blood
That I've been set free
It's a new new thing
That You do in me
It is by Your blood
That I've been set free
[Verse]
Your goodness and mercy
Will follow me through
every deep valley
You're doing a new thing in me
You found me down this old road
All my days to You I owe
Surrendered
You're doing a new thing in me
Your goodness and mercy
Will follow me through
every deep valley
You're doing a new thing in me
You found me down this old road
All my days to You I owe
Surrendered
You're doing a new thing in me
[Chorus]
I Found a Peace
For what I can't control
I got a Joy down in my soul
I got a Praise
That I cannot hold
Oh Hallelujah oh Hallelujah"
[Bridge]
It's a new new thing
That You do in me
It is by Your blood
That I've been set free
It's a new new thing
That You do in me
It is by Your blood
That I've been set free
It's a new new thing
That You do in me
It is by Your blood
That I've been set free
That You do in me
It is by Your blood
That I've been set free