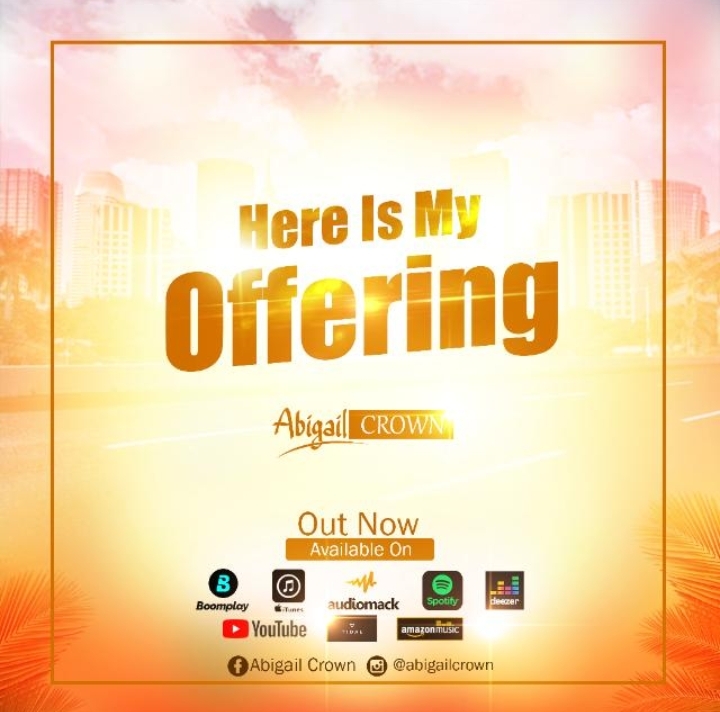 UK based Nigerian gospel singer, Abigail Crown release a brand new single titled  'Here is My Offering'.
Speaking on the song, 'Here Is My Offering' is one out of a few praise songs that I wrote for my praise team to sing during offering time at my local church. It is a song that helps me to acknowledge that all I have belongs to God. My prayer whenever we bring our offering is that God will receive it. Amen
Abigail Crown has always possessed the God-given gift of music and has a unique ability to arrange harmonies and vocals. Born and raised in Ogun state, Nigeria, Abigail is the fourth child of the four children in her family. She is not only a singer, song writer and backing vocalist, she is also experienced in providing vocal lessons and directing choirs and worship teams.
Abigail started writing songs in 2012, at the age of 16 and developed an interest in professional music production. In 2015, she received divine inspiration to develop her talent and become a music minister. She then began to minister at churches and gospel events in cities across the United Kingdom. And in 2016, after recording several cover songs on YouTube, God finally made it possible for Abigail to start recording and releasing her original songs.
Watch Video,Stream and Download Mp3:
Stream and Download Mp3: