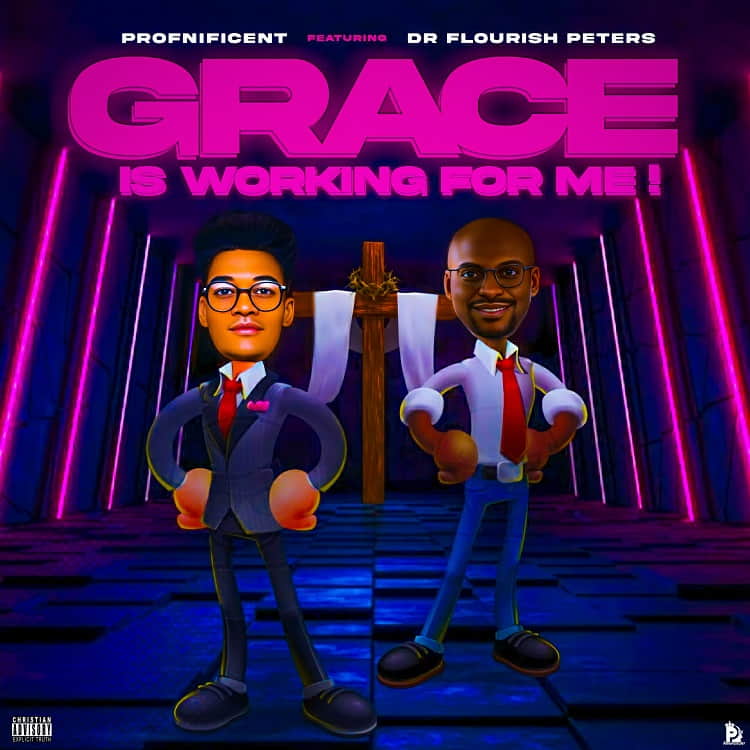 Nigerian afro gospel recording and performing artiste Profnificent release a new titled "Grace" featuring Dr. Flourish Peters.
Profnificent says "This is a song of gratitude that expresses a sharp distinction between what God has done for me by grace and how I am to live in the reality of this truth by faith, about the true riches of God's grace which has given me a new position in Christ, and makes all the difference in living with purpose and confidence, empowering me to live a life consistent in the supernatural reality of much more exceeding, abundant and unsearchable GRACE working for me and making all things work together for my good nevertheless".
Stream and Download Mp3:
Lyrics
DECLARATION by Dr. Flourish Peters
I am the righteousness of GOD in Christ Jesus.
All my sins are forgiven.
I am passionately loved by GOD.
I am powerfully helped by GOD.
I am kept and protected by GOD.
I enjoy angelic assistance.
I am irrevocably blessed.
I am eternally forgiven.
I am the healed of the Lord.
I enjoy divine health.
I have the favour and the wisdom of GOD.
I am fruitful. I flourish, excel and prosper in all that I do.
Nothing is against me. Nothing dies in my hands.
I am never stranded. All things are working together for my good. GOD loves me more than the devil hates me. Grace Is Working For Me!
(Shout glory).
HOOK
Amazing grace, how sweet thou art
You saved a wretch, a wretch like me
The one you saved, from grass to grace
Have come to say, Ese baba
BRIDGE
This is the day that the Lord has made
I will rejoice and be glad in HIM
HE made a way for me today
I will rejoice and be glad in HIM
VERSE.
Grace.. is working for me
Oh yes it's working for me
I walk by Faith not by sight
Supernatural is natural to me
BRIDGE.
This very light of mine
I'm gonna let it shine
This very light of mine
I'm gonna let it shine
HOOK
Amazing grace, how sweet thou art
You saved a wretch, a wretch like me
The one you saved, from grass to grace
Have come to say Ese baba
INTERLUDE
Grace.. is working for me (x3)
OUTRO
Awhodat