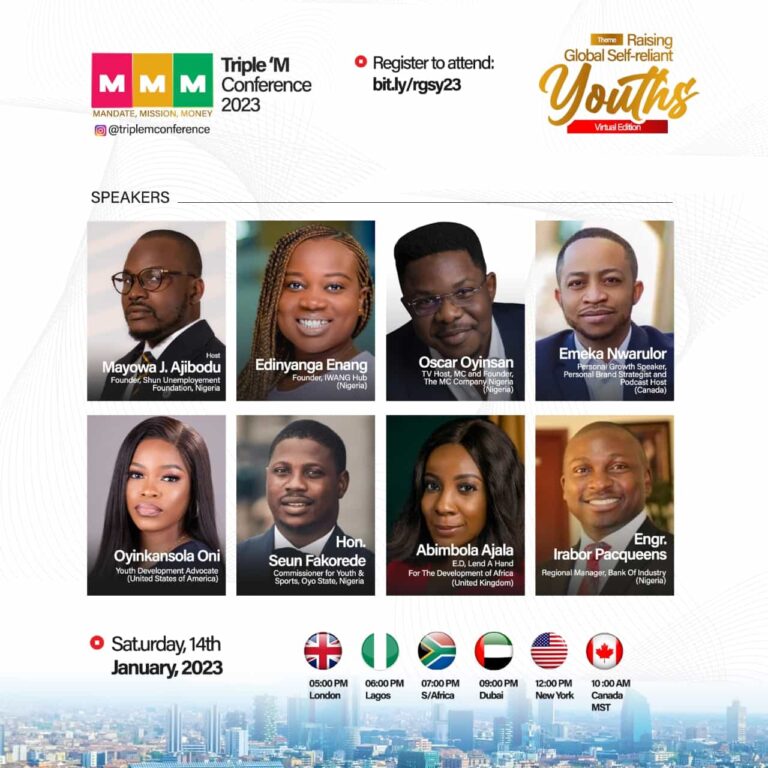 The Shun Unemployment Foundation (SUF) Triple M Conference took place over the weekend on the 14th of January 2022, via zoom. The second edition which had more than 200 participants who registered all over the world was a dynamic success with a significant one-of-a-kind experience, it was organized by the founder of The Shun Unemployment Foundation Mayowa John Ajibodu (Mr. Shun) and his wife Modebola Ajibodu. The foundation is set to reduce the rate of unemployment and help youths build capacity for success. The theme of this year's edition is Raising Global Self-reliant Youths.
It had in attendance over 100 youths and a mix of great minds and seasoned speakers such as the Honorable Commissioner for Youths and Sports, Oyo State – Dr. Seun Fakorede, Brand enthusiast and podcaster- Emeka Nwarulor, the CEO of the MC company – Oscar Oyinsan, The regional Manager of Bank of industry – Engr. Pcqueen Irabor and other amazing speakers.The convener of the Triple M conference Mayowa (Mr. Shun) enlightened the audience on the Triple M vision of raising youths for global relevance in ministry and business through immersive insights into Mandate, Mission and Money (the Triple M) and loads of practical approaches to achieving them as dished out by the speakers.
The Triple M conference was a virtual event that involved participants engagement such as breakout sessions to get them activated on problem solving, innovation and self-discovery.
The conference really brought clarity of purpose for the new year, a fresh air of hope and true energy for everyone that attended. It was a transformative experience, as attendees looked forward to the subsequent editions.