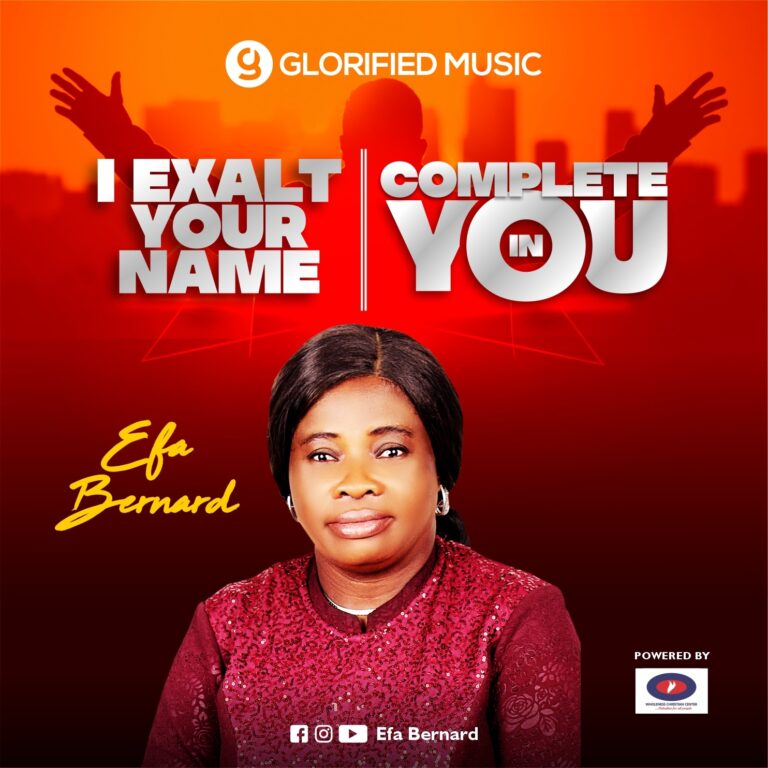 Nigerian based gospel music minister, worshiper, praise leader and a prolific songwriter; Pastor Efa Bernard releases her much anticipated spirit-filled album titled "COMPLETE IN YOU"
Have you been in a state where you almost lost your identity in Christ Jesus because of the circumstances faced in life. Please don't give up feed and rely on the love of God.
The love and the faithfulness of God has made you complete, no matter what you face in life, you are always an over comer.
(Pastor Efa Bernard)
Therefore, Rejoice in the Lord and Exalt His Holy Name for the riches of God's glory has been poured upon your life. Hallelujah.
2 in 1 inspirational songs for worship that will bring healing and encouragement to your life, Hallelujah!!!
Isa.25.1 – O LORD, You are my God. I will exalt You, I will praise Your name, For You have done wonderful things; Your counsels of old are faithfulness and truth.
2Cor.13.11 – Finally, brethren, farewell. Become complete. Be of good comfort, be of one mind, live in peace; and the God of love and peace will be with you.
2Cor.13.9b…… And this also we pray, that you may be made complete.
Glory to God, the goodness and the love of God has made you complete in Him. Exalt and worship God forever moreover.
ALBUM TRACK LIST
1. COMPLETE IN YOU – Download here
2. I EXALT YOUR NAME – Download here
DIGITAL STORES LINK: https://fanlink.to/Efa-Bernard-Complete-InYou
Follow Pastor Efa Bernard on Facebook, Instagram and subscribe to her YouTube channel for new music and ministry updates.
Instagram: https://www.instagram.com/pstefabernard/
Facebook: https://web.facebook.com/efa.bernard
YouTube Channel: https://www.youtube.com/user/YEMIODE
Fanlink: https://fanlink.to/Efa-Bernard-Complete-InYou