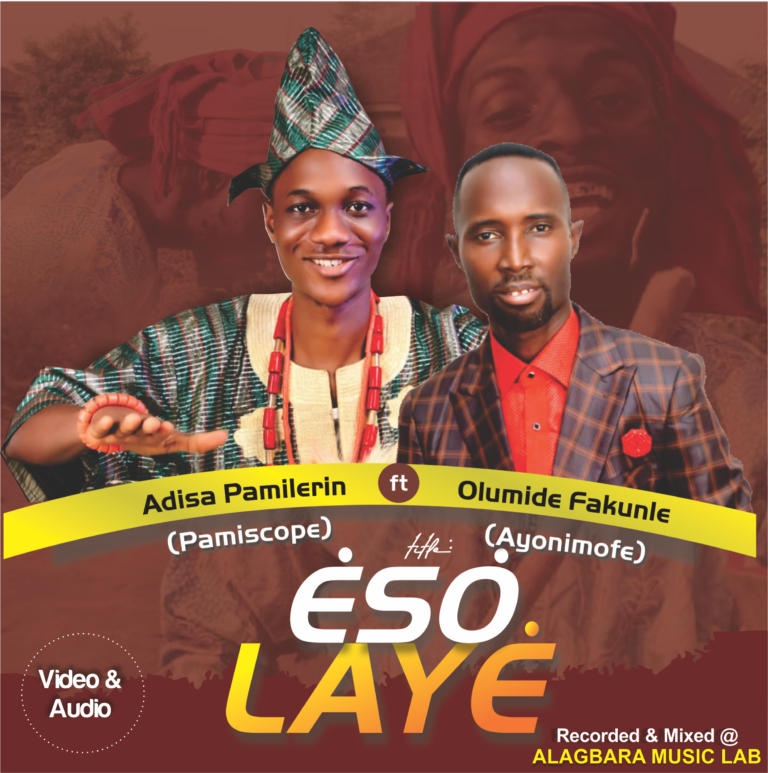 Nigeria Gospel Artiste Adisa Pamilerin (Pamiscope) is out with his first official single titled Èsò Layé featuring Olumide Fakunle (Ayonimofe).
Èsò Layé is a heart warming, moral teaching gospel single with enlivening lyrics. The track answers the questions: Why are we in the world? Why do we need to struggle? Why is the economy drowning, and what are the ways out?
Watch Video, Stream and Download Mp3:
Adisa Pamilerin popularly known as "Pamiscope" started his music career in the year 2014 by learning how to play a guitar. Pamilerin has played guitar for different top musicians in Nigeria. He has trained a lot of people how to play a guitar and he is currently a guitar tutor at Piano Blast and Music Academy, Ile-ife.
Pamilerin is the host of the popularly known concert tagged "Evange-Praise Concert".
He is a composser, a singer, an instrumentalist, and a music director.
Social media details:
Facebook (Adisa Pamilerin Pamiscope)
Twitter (@Pamiscope1)
Instagram (Pamiscope)
WhatsApp (+2348104710996)
LYRICS
Vanity nile aye
Res: Eso nile aye o ×2
Efarabale ke se jeje
Res. Eso nile aye o ×2
Ile aye ko gbagbara
Res: Eso nile aye ooo
Ile aye kogbagidi
Res: Eso nile aye ooo
Efarabale kese jeje
Res: Eso nile aye o. ×2
Ile aye kogbagbara
Res: Eso nile aye ooo
Ile aye kogbagidi
Res: Eso nile aye ooo
Eso nile aye
Res: Eso nile aye oo ×2
Ile aye
Ile ogun ×4
Kosoun ta mu wa saye oo
Res: Taa maa mulo sorun ×2
Ile aye
Ile ogun ×4
Ile aye
Ile asan
Ile aye
Ile ogun ×3
Asare tete koni koja ile
Aringbere koni sun sona oo ×2
Mofe dogun mofe dogbon oo
Res: Ile aye lomo ×2
Bobakole
Omi a ku
Boo kole o
Omi a rorun
Bojo lowo
Omi a ku
Boo rije rara o
Omi a rorun
Bojolo Kiki
Omi a ku
Ban mo o rara o
Omi a rorun
Ore mi sare aye mon niwon
Awon to laye lana da won tiku won ti lo
Gbogbo kirakita wa nile aye oo
Eso eso loye ka maa se
Ara mi ki lon le e lere
Ki lon le e lere. ×4
Ara mi kilo nwa kiri ×4
Oba fi suuru si
Ile aye kogbagbara
Kogbagbara
Res: Kogbagbara ×4
Ere ije kii se teni to yara
Res: kogbagbara
Beeni ogun kiise talagbara
Res: Kogbagbara
Ounje kiise ti ologbon aye
Res: Kogbagbara
Oro kiise teni oye
Res: Kogbagbara
Oju rere kiise ti ologbon inu
Res: Kogbagbara
Igba ati ise nse si gbogbo won
Res: Kogbagbara
Kogbagbara
Life is beautiful
When you got Jesus
Life is vanity
When you are alone ×2
I've been so far
So far away from you Lord
Now I'm back finally to you ×2
Vanity nile aye
Res: Eso nile aye oo ×2
Efarabale ke se jeje
Res: Eso nile aye oo
Alagabagebe elo sora
Res: Elo sora
Aforo kele ba teni je
Res: Elo sora
Omuti pansaga elo sora yin
Res: Elo sora
Afomo nikeji seso owo
Res: Elo sora
Aforo kele bateni je
Res: Elo sora
Elo sora yin
Res: Elo sora
Elo sora
Res: Elo sora ×3