The annual Worship event (Nations' Worship In His Presence) is a way of starting the year after the yearly fast in an intense worship of a total surrender to the King of Kings.William McDowell, Sinach, Nathaniel Bassey , Chioma Jesus, Prospa Ochimana to headline the third (3rd) edition of Nations' Worship in His Presence at the Dunamis Glory Dome Abuja. This year's edition is tagged: Divine TakeOver.Also, Dr. Paul Enenche recently released a soul lifting single titled: 'Let Me Want What You Want' featuring his family. The single has gained massive acceptance offline and online. The Nations' Worship will be holding at the Dunamis Glory Dome, Airport Road, Abuja-Nigeria.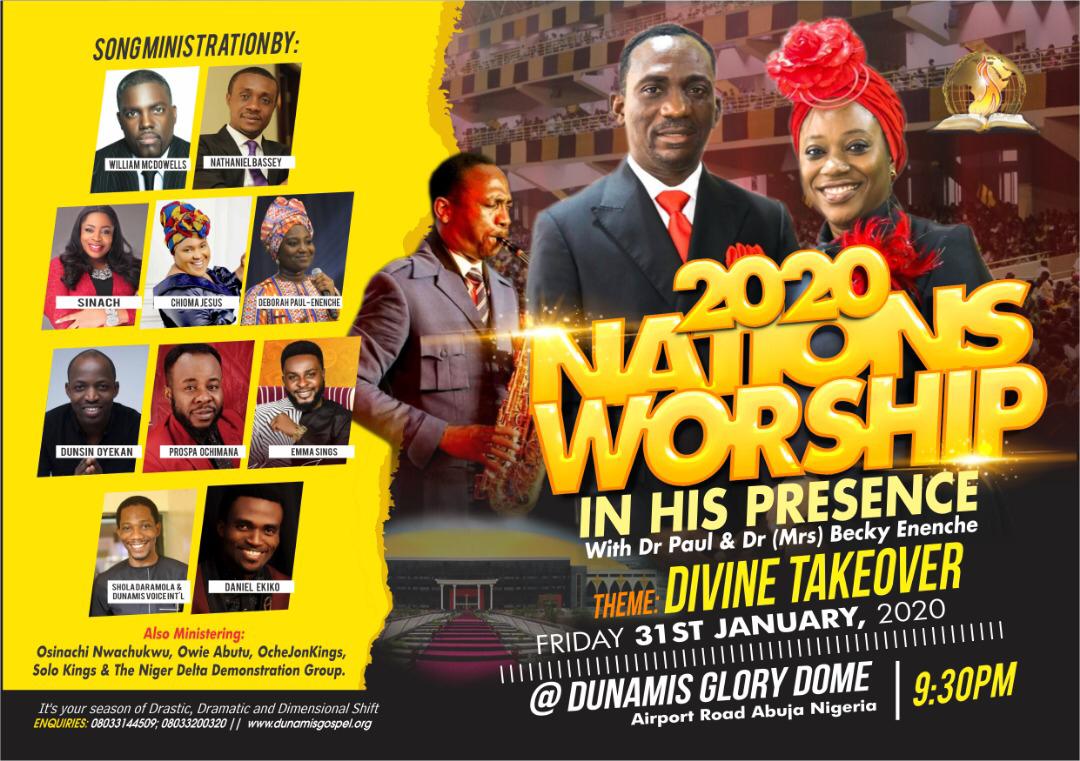 Date: Friday January 31st, 2020
Time: 9.30pm
Video Advert https://youtu.be/Tulx3bKUOI4
Follow us on all our social media platforms:
YouTube url: https://www.youtube.com/user/dunamistvng/live
Facebook: www.facebook.com/DrPastorPaulEnenche
Twitter: www.twitter.com/DrPaulEnenche
Website url: www.dunamisgospel.org
Host:Dr. Paul & Dr (Mrs) Becky Paul-Enenche.
It is our season of drastic, dramatic and dimensional SUPERNATURAL shift. See you there